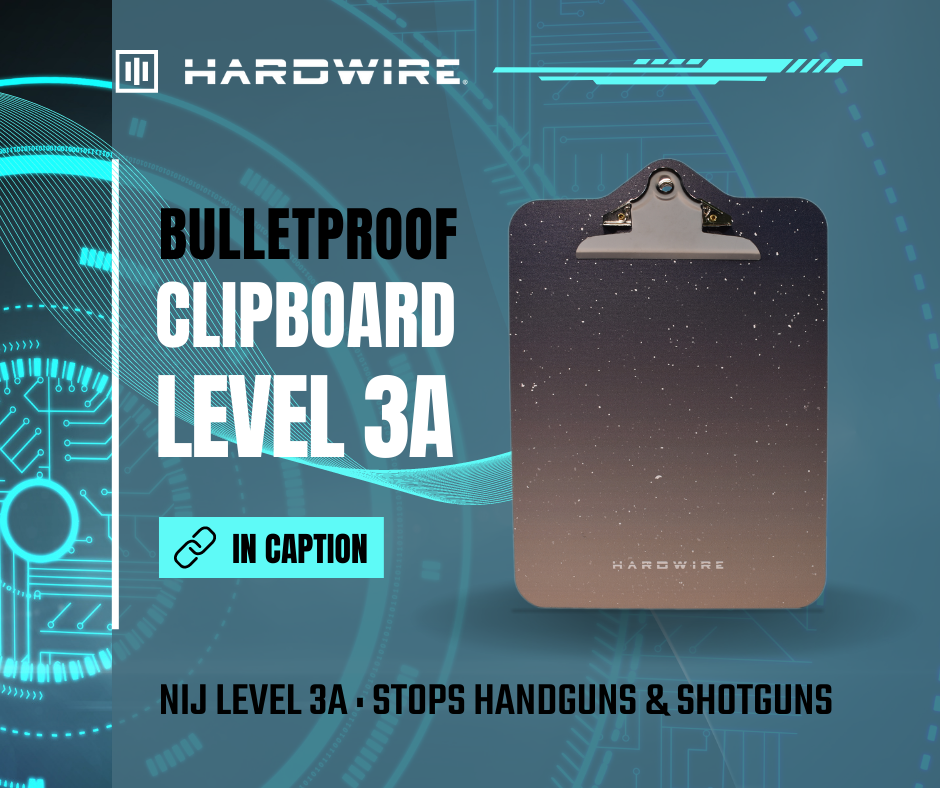 Hardwire Bulletproof Clipboards
GIVES YOU PRACTICAL PEACE OF MIND
Hardwire Bulletproof Clipboards provide emergency protection that's easy to keep on hand in:
This clipboard is designed to give you
military-trusted
bulletproof protection that doubles as a practical, everyday clipboard.
See Hardwire's Level 3A consumer products put to the test. Featured in this video are the Level 3A Bag Inserts which offer the same protection as the clipboards:
KEY FEATURES
Size: 10" x 13" x 0.25"
Weight: 1.3 lbs
Protects the vital torso area
Available in a variety of finishes and colors for multi-use functionality
Engineered with the world's strongest materials
Designed using technology developed for the U.S. military
Limited 10 year Manufacturer's Warranty
100% Made in USA
NIJ Level 3A protection is tested to stop .357SIG and .44 Magnum ammunition fired from longer barrel handguns. No rifle ammunition protection.
(NIJ Level 3A stops handguns and shotguns)
click to view larger
Additional Specs & Resources:
Consumer Product Warranty (Bag Inserts, Clipboards, & ERS)
Bulletproof Clipboard NIJ Level IIIA Certification
Clipboard Insert Specifications
If I live outside of the US, can I purchase Hardwire Items?
Yes, Level 3A bag inserts, clipboards, Emergency Response Shields and  targets are available to all for purchase on the Hardwire site. 
Free shipping over $100 is not included for purchases outside of the continental United States.