Production and Engineering
Armor should be made right.
We're fully equipped to process a large variety of complex materials, engineering designs, and scale those solutions to high volume, automated production—from fabrication to record-keeping.
Production capabilities
We develop and manufacture spall liners, proprietary armor, and protective solutions for a variety of military, law enforcement, infrastructure, aerospace, and civilian applications, including but not limited to:
High performance base armor for tactical vehicles (A-Kits and B-Kits)
Add-on EFP kits
E-glass armor for buildings and structures
Multi-threat armor to protect domestic critical transportation infrastructure (bridges, tunnels, and utilities)
Fire protection solutions
Production of kits, packed to ship overseas for various spares, support, reset, and recap programs
Production of composite armors of various materials, including Dyneema®, SpectraShield, other UHMWPE's, aramids, and various hybrids designed for specific end-uses—capacity exceeds millions of square feet of composite armor annually
Just by being environmentally conscious...we actually find that we can be much more efficient.

George Tunis, CEO and Founder of Hardwire
State-of-the-Art Equipment
If it can be built, we have the equipment to build it.
Our broad range of equipment gives us extensive capabilities and is always growing.
Automated vacuum laminating presses, stamping presses, hot and cold presses
Vacuum formers, ovens, autoclaves
Laser cutters, fabric cutters, water jets, cutting saws
Automated sewing machines
3D printers, roll to roll UV printers
Laser scanners, FARO arms
Machining centers and mills, CNC routers, CNC press brakes
MIG and TIG Welders
Paint booth
Environmental test chambers, gun tunnels
Concrete mixing and pumping equipment
IF WE DON'T HAVE WHAT WE NEED, WE MAKE IT.
Our Fabrication & Machining Center enables new equipment tooling and molds to support expedient production contracts and rapid prototyping for scaled or full-sized parts. Hardwire manufactures its own equipment and tooling when needed, reducing the time from design to production parts.
DOCUMENT CONTROL SYSTEM.
For your convenience, we record and store pertinent information regarding how all materials are received, processed, and delivered. Each item produced is assigned a unique serial number, recorded, and documented within our secure network.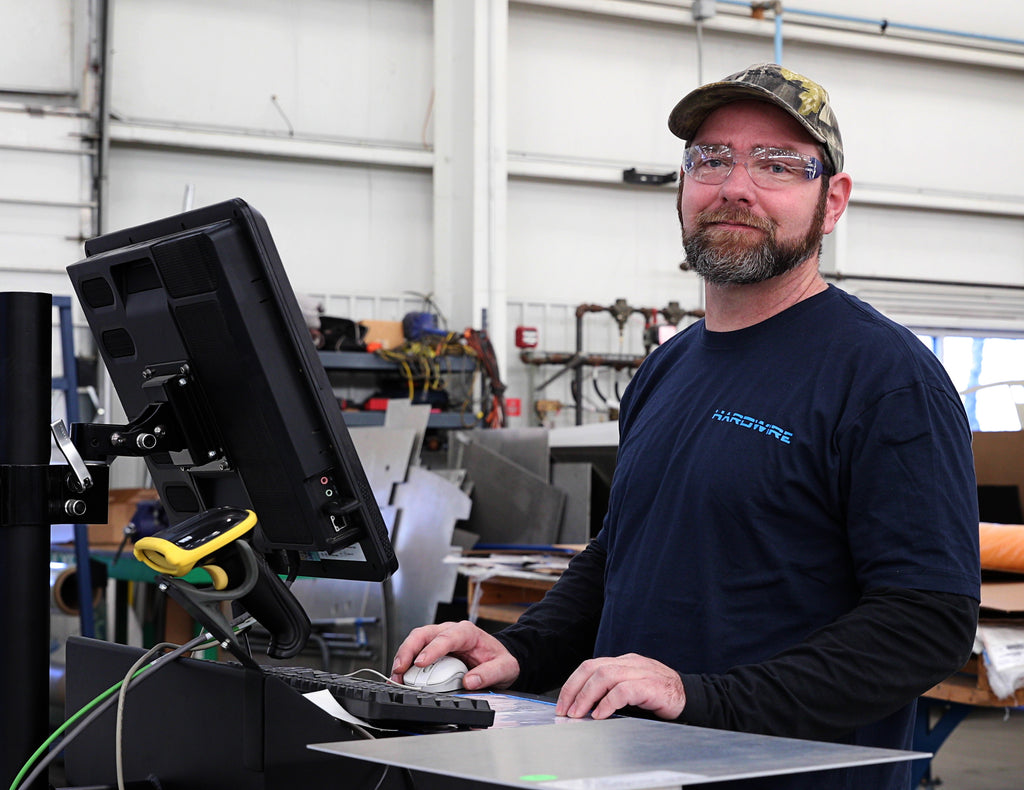 Production Management.
Because we make and ship hundreds of thousands of armor parts each year, we have created a robust and proven database and traveler information system to ensure organization and quality on the production floor.
We supply armor solutions for U.S. Special Operations Forces.
The World's Lightest Armor.
Hardwire soft armor is engineered to provide premium strength and bullet-stopping performance without weighing you down.