New school resources to be implemented in the wake of mass shootings by Deja Parker, 47ABC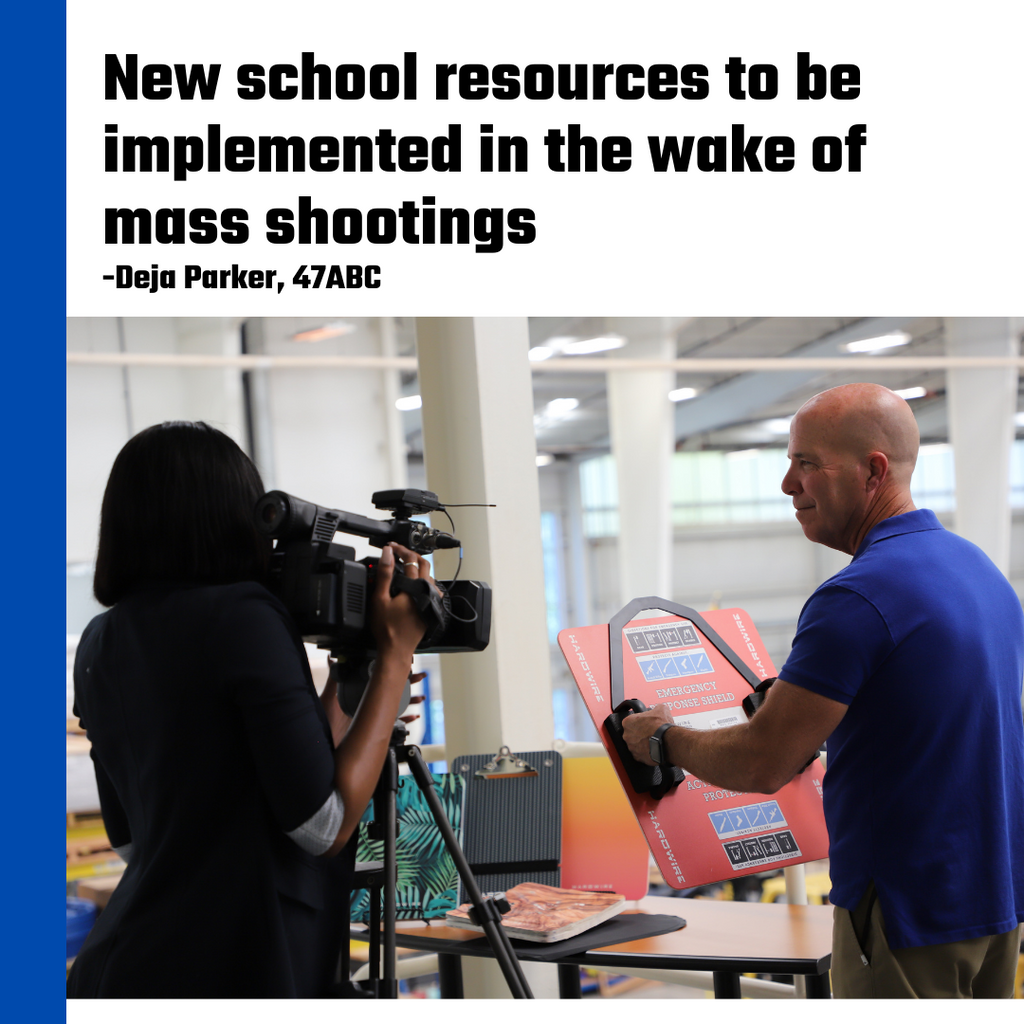 New school resources to be implemented in the wake of mass shootings
Deja Parker
Click to view the 47ABC Video Segment with Hardwire CEO George Tunis>
WICOMICO COUNTY, Md. – Mass shootings are on the rise and our local schools are taking action now to prevent another death.
Wicomico County Sheriff's department is teaming up with a manufacturer to put more tools in the classroom to protect students. At Hardwire, LLC emergency response shields will make a difference in the lives of faculty and students.
"We will not delay, we will go in immediately you don't wait for backup," says Sheriff Wicomico County Mike Lewis.
Sheriff Lewis is talking about what his officers would do if an active shooter were in one of the Wicomico County schools. Hardwire CEO says they're putting tools in the classroom, that are easy to grab and go in a fight or flight situation.
"But if you have to fight you need a tool and we want to make sure that the right tools are in the right hands of teachers, SRO's across the country, and law enforcement so that they're not waiting for shields to arrive, they're already there in the school," says George Tunis, CEO, and Chairman of Hardwire, LLC.
Detailing those resources CEO George Tunis tells us just how strong those tools really are:
"Our products can stop any of the assault rifles or any handgun, shotgun, and knives so the more we see them around and available, what we've actually found is students are very comfortable with the teachers are comfortable," says Tunis.
Worcester County Sheriff Matt Crisafulli says they already have these tactics in place at his schools, but he's eager to see others get access.
"This is an excellent resource that Hardwire is helping us with. We already have ballistic shielding in some of the schools, what this is going to do is increase the ballistic shieldings and we will continue to work in conjunction with Worcester County public schools," says Worcester County Sheriff Matt Crisafulli.
Sheriff Lewis says being proactive doesn't stop there. He says the Wicomico County Sheriff's department will be well equipped if one of these tragedies were to happen here.
"We are retraining all of our school resource office deputies in the proper response to an active shooter situation while we're also going to retrain every deputy here in the Wicomico County Sheriff's Office to know what they will do if they respond to an active shooter situation," says Sheriff Lewis.
The Wicomico County council meeting will be held Tuesday, June 7th at 6 pm.