HARDWIRE EXPANDING IN WORCESTER COUNTY, ADDING 20 JOBS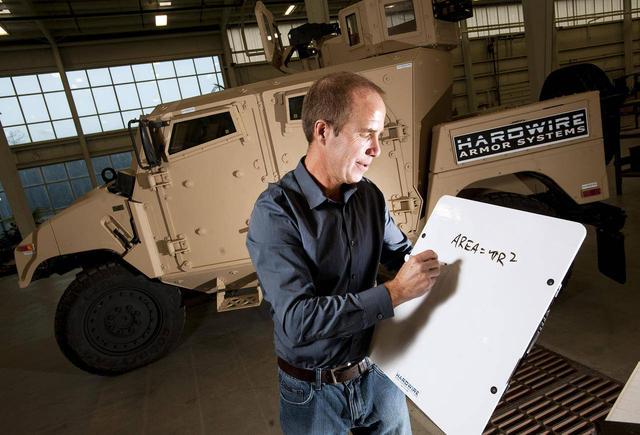 BALTIMORE, MD (June 21, 2016)

 
– Hardwire LLC, a manufacturer of armored systems and other products headquartered in Pocomoke City, Md., is expanding its operations and adding 20 new jobs over the next three years. The announcement was made during Governor Larry Hogan's visit to Hardwire, where he discussed ways in which the state might encourage companies to expand and create jobs on the Eastern Shore.
"At Hardwire, we applaud Governor Hogan's proactive approach to catalyze business expansion and create jobs on the Eastern Shore," said Hardwire CEO George Tunis. "By working with Hardwire, not only through financing, but through pilot programs, Governor Hogan is really facilitating market growth and taking a leadership role in our state and country."
"We are committed to economic prosperity in all regions of Maryland, and today we celebrate the growth of a very important company in Worcester County and in Pocomoke City," said Governor Hogan. "Hardwire's expansion means that 20 additional families will be supported by good-paying jobs over the next three years, while the company continues to make the innovative products that protect military, police, and communities alike."
Hardwire develops and manufactures products used in military vehicles, police and tactical units, helicopters, commercial vehicles and U.S. transportation infrastructure. Among its products are armors to protect against small arms, improvised explosive devices (IEDs) and under-body blasts. Hardwire's products are also used in upgrading bridges and buildings, restoring historical buildings, and reinforcing flooring. The company currently employs 42 people in Pocomoke City with an average annual salary of approximately $77,000, and occupies more than 100,000 square feet of space.
To support Hardwire's expansion, the state of Maryland will provide an $85,000 loan through the Maryland Economic Development Assistance Authority and Fund (MEDAAF).
"We are pleased to support the expansion of Hardwire, a homegrown company, in our state," said Maryland Department of Commerce Secretary Mike Gill. "With a renewed focus on attracting, retaining, and expanding businesses -- and creating jobs -- Maryland Commerce works closely with our partners in county and local government to ensure that companies like Hardwire stay and grow right here in Maryland."
Worcester County will provide a $10,000 grant to Hardwire, and the city additionally has committed a 10 percent match to the state support. Hardwire expanded to a third building in Pocomoke City in 2015 and expects to invest approximately $300,000 to upgrade infrastructure at that facility.
"Hardwire is not only a local business, it is also an integral part of our community in Worcester County," said Merry Mears, director of economic development for the county. "Countless students have wal​ked through the company's doors to learn about the products they create and provide, and they learn about career opportunities that are available to them as well."