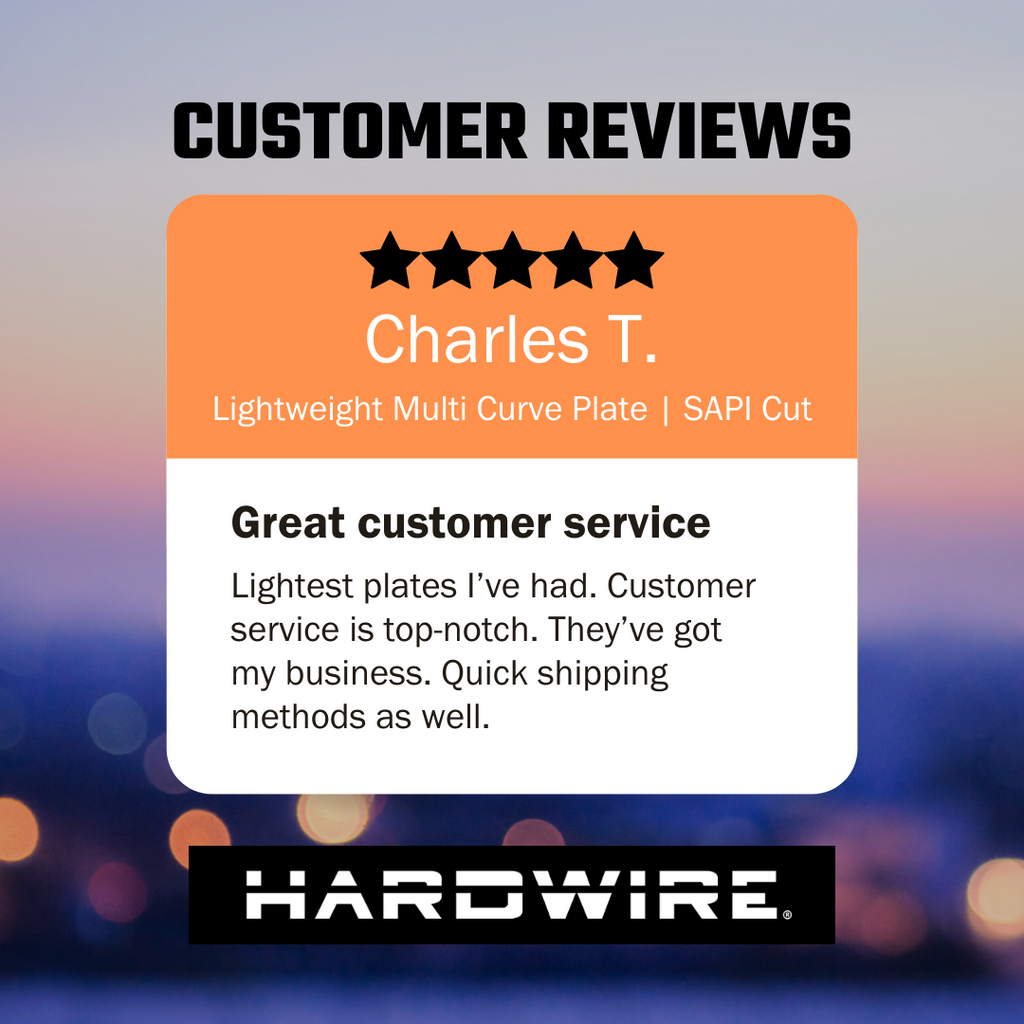 Hardwire is the best armor.
Lightest

Thinnest

Strongest
Don't take our word for it. Here's what our customers have to say about our products.
"GREAT PLATES FOR ACTIVE SHOOTER OPERATIONS"
Great piece of gear with an amazing warranty. I attended My department's Counter Active Shooter training and struggled with my issued 7lb rifle plates. Being 51 I invest more in gear that will make me comfortable. Anyway, I was hired to be on my department's Counter Active Shooter Team and knew I needed a lighter, more comfortable plate. Another team member recommended your plates and I went for it. Best investment ever. Great fit, super light, half the price, and twice the warranty of comparable products. - Mike S.
"INCREDIBLE QUALITY"
Incredible quality. I didn't know what I was missing until I received these and replaced my almost 25-pound steel plates. - Andrea Y.
"REALLY NICE PLATE"
The construction and finish details of the plate are superb. Very nice back face.....and very padded. There is no need for level 3a inserts behind this plate. It has plenty of softness as is. The plate is a little thicker than US ceramic ESAPI issue level 4. So, be sure your carrier can accommodate for This. When compared to other level three plates on the market....there is not a better plate to purchase. Expensive .....yes. Justified....I think so. NIJ certified US-made, Extra Large, and people that are actually answering the phone. Shipping/packaging is excellent. I put these in an SKD Pig carrier, and the fit was perfect. - Donald A.
"GREAT ARMOR"
When the package arrived and I took the first plate out it was so light I had to double-check the threat level and make sure I didn't order pistol armor instead of rifle. These plates are honestly lighter than my soft armor vest I have to wear daily and more comfortable. Best plates I have ever owned and definitely the lightest (compared to my previous 9lbs per plate) - Tyler S.
"AWESOME PRODUCT"
I couldn't believe how light these plates are. Best armor purchase I've made so far and probably the best price around. - Brian F.
"GREAT PLATES"
Very comfortable. They are listed at 5 pounds but don't feel like it at all. These will be my go-to plates. - William F.
"FEELING SAFER"
Thank you for making a product that will help me sleep a little better at night. - Sara P.
"AWESOME!"
I absolutely love it. It fits in my backpack perfectly. It's light weight and shipping was fast. - Michael R.
"PEACE OF MIND"
Got these shortly before the Dec. 17, 2021 TikTok Challenge. Each of my kids had a 3A insert in their backpacks that day - it gave some peace of mind to them and to me knowing what was "threatened". - Brian D.
"LOVING IT"
I use my clipboard Monday straight through to Friday... And am loving it. - Carter G. 
"WORK SAFE "
Nice piece of office equipment to keep in my briefcase gives me one extra piece of mine. Excellent customer service. - Daniel N.
 "NICE PRODUCT"
Very lightweight. I will carry it in my backpack all the time. - Audrey B.
"GREAT PRODUCT!"
I bought this for my brother for Christmas, and I received great information related to the product as well as five star service. They kept me updated on the shipping, and it came within a week. I purchased the carbon fiber clipboard and it looks even better in person. It's bigger than expected, but they did list the measurement in the description, so that's on me. The reviews are amazing and I'm hoping it lives up to its name. Thank you Hardwire for great services, great communication, and great products! - Kayla L.
"DISCRETE PROTECTION"
This was a birthday gift from my parents, I absolutely love it and take it with me everywhere. I love how it is so discrete. - Joseph B.
"GLAD I GOT IT"
I live in Chicago and have to go into all areas, good and bad, for my job. Unfortunately, even the good parts of town are not immune to shootings and car jackings. I have been carrying a clipboard for years. It's nice to have a BR clipboard that I can carry just as easily as a regular one. Having a little extra protection is a good feeling. - Mike R.
"ATTRACTIVE CLIPBOARD. I HOPE I NEVER TEST ITS OTHER FEATURES"
Shipping was good. The product looks as expected. I haven't tested its bulletproof features out yet, and I hope I never will...It's just like any other attractive clipboard, except more durable in an emergency. - Roger D.
"GOOD PRODUCT"
Some of the lightest and thinnest armor I have ever seen. Extremely good quality and service. - Gabriel S.
"TOUGH MATERIAL"
Tough material gets the job done. And can't beat the flexibility. - Sean W.
"VERY IMPRESSED"
The lightest and thinnest level IIIA protection I've ever seen! Very impressed. - Aaron R.
"MUST HAVE SCHOOL SUPPLY!"
The level 3a super flexible light insert fits well and so light. - Michael P.
"SO THIN!"
I have tried numerous armor panels and inserts to find one that is as low profile as possible. This one is by far the lightest thinnest I have ever seen. Not quite sure how they are able to keep a 3A rating on something so light, but this is superior to any other ones I have found. Hopefully I never have to use it. - Kerry T.
"LIGHTEST BY FAR"
Dept. issued, have to say it's the lightest vest by far I've had in 10 years. - Ben F.
"PERFECT BLEND"
The flat plate is the perfect blend of protection, price, and weight. Hardwire has a real winner with this product. - Christopher L.