Shielded for Success: Back to School Safety Sale!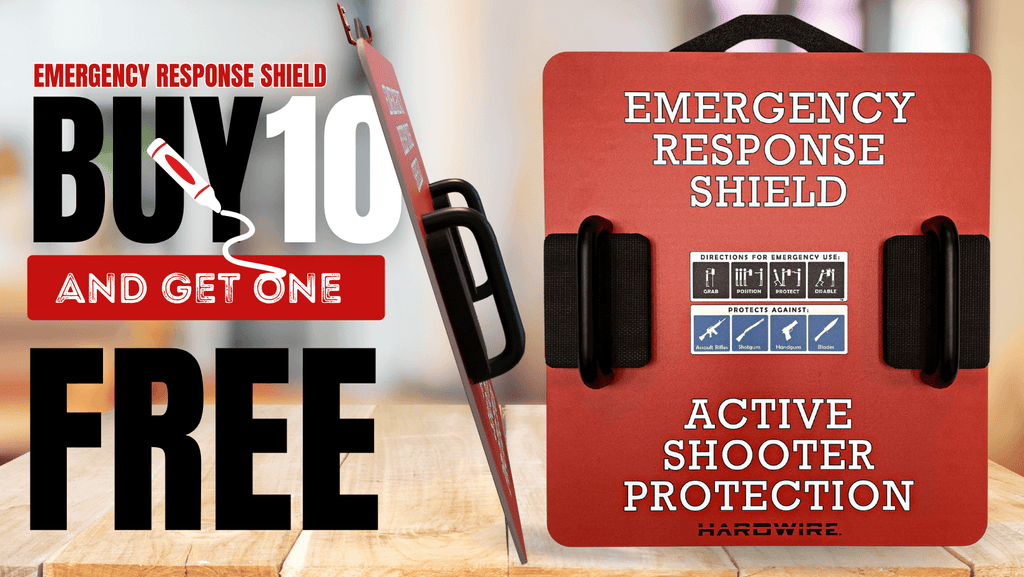 Smart Start Savings
Thank you for your unwavering commitment to protecting and guiding our next generation. Together, let us create a secure and inspiring environment where students can flourish.
Buy 10 Emergency Response Shields (ERS) and get one FREE!   Use the code: SMARTSTART at checkout to receive your discount. Hurry, as this offer is only valid from July 10, 2023 to July 31, 2023.
ERS STEEL | LEVEL 3+ (RIFLE)
(TESTED IN ACCORDANCE WITH NIJ 0108.01)
STOPS HANDGUNS, SHOTGUNS, ASSAULT RIFLES & M855 GREEN TIP PENETRATOR ROUNDS
The Hardwire Emergency Response Shield is the Fire Extinguisher for Gunfire. This updated shield is designed to be easy to locate and at the ready in the event of an active shooter situation—providing critical, military-trusted protection when escape is not an option.
Steel Level 3+ protects against shotguns, handguns, and rifles including M855 "Green Tip" partial steel core ammunition. Learn more about protection levels here!
TRAINING & TUTORIALS | Please scroll down to our Features & Specs Tab as well as our Video Library Tab for in-depth video demonstrations, product details, and helpful articles.
KEY FEATURES
Easy to find, hold, hang, or carry
Patented NIJ Level 3+ shield, tested in accordance with NIJ 0108.01
Protects the head and vital torso area
Engineered with the world's strongest materials
Designed using technology developed for the U.S. military
Works in conjunction with DHS "Run, Hide, Fight" and ALERRT "Avoid, Deny, Defend" 
Size: 18" x 20"
Weight: 24.5 lbs
DIRECT LINK TO THE EMERGENCY RESPONSE SHIELD: https://hardwirellc.com/products/emergency-response-shield-level-3-steel-m2